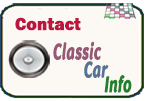 Maintaining a classic car's wiring system is an important part of keeping the vehicle running smoothly and safely.
Routinely inspecting major electrical components and the wiring that leads to them will not only make a classic car much  safer but also more enjoyable to drive.
The most frequent electrical problems—loose connections, corrosion, bad grounds or simply deterioration—are not difficult to diagnose and even repair,
Maintaining a classic car  electrical system does not require too much in the way of specialist knowledge  or even expensive tools.
Having access to a simple multimeter will be invaluable, as well as a automatic wire-stripper and crimper
To complete the job, all that is required is  a  variety of wire colours and sizes, connectors and tubing, and  a semi-analytic mind and even the most difficult of  wiring challenges can be faced
Here are a few tips on how to maintain classic car wiring systems:
Look for any signs of wear or damage to the wiring, such as frayed or exposed wires. If you find any issues, have them repaired by a professional.
Check all connections, including those between wiring harnesses, fuses, relays, and electrical components. Make sure they are clean and tight, and fix or replace any that are corroded or loose.
Make sure that the wiring used in your car is the right type and gauge for the electrical components it's connecting. Using the wrong wiring can cause a number of problems, such as increased resistance, which can lead to heat build-up and possible fires.

Among the most misunderstood functions in maintaining a classic car vehicle electrical system is  the necessity  for proper electrical system grounding. An electrical system that has been correctly grounded, is critical to the functioning of your car. A system that has not been properly and professionally grounded, will not allow the ignition system to perform to its maximum. Setting up a grounding system requires very little in the way of equipment and knowledge.
The ground cable should be set up with one end connected to the negative battery terminal and the other as close to the starter motor or engine block as it will reach, ensuring that a proper ground path has been established to the starter motor.
Both connections should be clean, and tightly attached. To complete the ground, a heavy ground wire should be connected from the engine block to the car body, again making sure that both connections are clean, tight, and metal to metal.

Check if there are any modifications to the car's electrical systems. Sometimes, these modifications may not have been done correctly and this can cause problems to the car's wiring system.
Consult the car's wiring diagram to help you understand the wiring system and identify any issues. It can be found in the car's manual or service manual. If the vehicle being maintained is reasonably new, the relevant wiring diagram, may even be located online.  
A wiring diagram depicts main electrical systems, sub-systems, and individual circuits that are all linked together.
It is important to take good care of the wiring system as it is crucial for the car's functionality and safety, and it can be a complex and intricate system to deal with. Regular inspections and maintenance can help prevent issues and ensure that your classic car's wiring system is in top working condition.