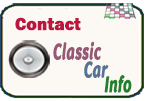 One of the most significant investments that a classic car restorer will make is refurbishing the exterior trim and no less important -as all the work that will be done is out in the open and exposed to the  critical eye.
Once the investment had been made, the owner should rightly have great pride in his restored classic as well as a great responsibility in maintaining the standards set- even if his vehicle is in use as a daily driver. There are many and varied tasks involved in maintaining a classic car exterior trim, each of them equally important.
The first on the list is maintaining the vehicles chrome trim.  Most cars produced from the mid Fifties through the Sixties had more than their fair share of chrome trim, especially if the fell into the medium to upper price bracket. If the restorer has done his job properly, maintaining chrome trim should be an easy enough job.  Nowadays there are a variety of specialist polishes that will do a great job in keeping chrome trim shining like new. One of the most outstanding features of UK and European classic cars of the Fifties and Sixties, were their chrome plated wire wheels, fitted mostlty on sports touring cars and luxury saloons. Maintaining wire wheels can be a ponderous task, but well worth doing as a gleaming set add a whole mystique to a classic car, and if they are allowed to fall into disrepair, can be very expensive to bring back to the same standard.
A definite advantage of driving a restored classics is that rust damage should be very minimal, but if it rears its ugly head it should be treated immediately, preferably by someone who knows what they are doing.

The same applies to accident damage.  Chrome bumpers are as susceptible to damage, such as dents and scrapes, as any other form of plated metal. Once again, for the most pleasing results, these problems should be handled only by experts. Cars produced in the late Forties and early Fifties as well as entry levels during the Sixties were fitted metal mouldings.  There are so many different finishes of metal trim to be found on any vehicle and the specialist tools required to carry out any project. With custom-polishing techniques, many variations are possible. By using different tools, abrasives, polishes, and paints, it is possible to change the surface finish of a metal part from smooth and shiny to rough and dull. Taking care of  exterior trim, metal or otherwise, form a major part of any classic car exterior maintenance program, while in second place are such essential important items as nameplates, number plates and emblems. Each of these sub-categories are relatively simple to maintain in prime condition, and there is no excuse for letting them not sparkle and gleam. During the exciting days of the Fifties and Sixties , UK and European car manufacturers, influenced by their counterparts and even their parent companies in the United States, began to offer vehicles that were a little out of the ordinary. One or two manufactures began to offer the option of exterior wooden trim on their vehicles, especially estate cars.
Someone lucky enough to own a "woody"  can enjoy the turned heads their pride and joy will generate. Although they will need to be aware that taken care of exterior  wooden trim requires as lot of time and considerable knowledge.
Another Fifties fad that carried on a little into the Sixties was the convertible top. While weather conditions in the UK or Western Europe bore little resemblance to the West coast of America where "ragtops" were especially popular, every now and then the UK climate allows for the top to come down and allow the driver and passengers to enjoy the sun beating down on their brow- if only for a few hours. Payback time for this pleasure comes during a bleak rainy day ( of which there can be many) when the rain is leaking through the convertible top. That's the reason why it's important that owners of classic convertible spend whatever time necessary to ensure their roof is properly maintained at all times. Maintaining the exterior trim on a classic car is a wise investment and will play an important part of keeping the vehicle looking its best way of into the future.
Got a question, a comment, a suggestion or an offer??? - FEEL FREE TO CONTACT US ANYTIME!!
Take me back to the Home Page
A guide to acquiring, restoring and maintaining UK or European Classic Cars of the Fifties and Sixties- as well as a recollection of the iconic cars of the era and the visionaries that produced them.